The Art of Trying
Just a couple of years ago, Social Media Marketing was still considered a "fringe" tactic – at best, major companies wanted to do it, just so they could say they did it.  Few really understood what a major shift was happening, and fewer still knew what to do to embrace it.
Fast forward to 2012, when, although many companies may not understand the major changes that have happened and are still happening, few now question the need to "do social" and to do it right.  As Social Media Marketing, as an industry, has grown up and gotten its seat at the "big kids table," the demand for proving Return on Investment (ROI) in social has grown as well, and so has the insatiable appetite for data.  It's an interesting phenomenon to watch.  In comparison, we have rather simple numbers when it comes to other forms of media.  Do you want to buy a TV Ad?  Then you get a very rough estimate of how many people MAY be watching it, should they choose not to fast forward your commercial.  Billboard?  Yeah, we have a guesstimate for total impressions per day.
But as Social Media has evolved into an entirely new paradigm of both C2C and B2C communication, we demand from it an illogically exaggerated trove of consumer insights and data, in order to justify the money we spend on it.
And as Social has always done, it evolves to fill that need as well.  However, companies are losing something very special going down this path.  Way back in the olden times, 2004, the Subservient Chicken was an absolutely ludicrous and hilarious bit of digital marketing.  What was the ROI?  Who knows!  What was the point?  Who the heck knows!
But it was great, and it tried something new that had never been done.  We don't know how effective it was, but Burger King helped pioneer a new customer experience with interactive "advertising." Something they did again in the early days of brand pages and apps on Facebook, with the Sacrifice a Friend Campaign.  It broke Facebook TOS.  It was kind of mean.  It was NEW, and it was utterly delightful.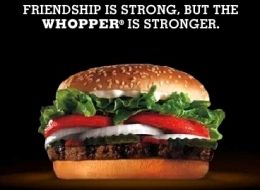 As the "science" of social advertising developed, we gained immense insight into our customers through behavioral analytics and scanning their Facebook pages.  We learned to calculate ROI through increasingly complex Lifetime Value Calculations, and influencer metrics.  And companies make real money today using Social Media.  But let's not become so focused on ROI, that we forget to try new things.  The next delightfully new idea is out there, waiting for a company who is willing to try something new in Social Media, regardless of ROI projections and its impact on social KPI's.  While technology has advanced enough to allow us to get many of the metrics we want, let's not let it hold us back from using the new tools that are available to try something wildly innovative and exciting.
Analytics will catch up to innovation.  But don't let them keep you from trying something new.
The Art of Trying

,
Related posts: